Allo
All-night gaming mobility experience.
Year
2021
Client
BMW Designworks Co-Op project
Team of 4 (ID 2 / UX 2)
Skills
Industrial Design
Automotive Design
Experience Definition
Visualization

---
Challenge


Designing a new experience of
'In-car entertainment'.

Designing Allo was a truly opportunity-driven challenge. With the rapid change in transportation becoming an extensive social space for entertainment and service, we were challenged to design a concept on a highly anticipated topic - "in-car gaming", that especially captures the cultural background of Korea, one of the highest-grossing countries in gaming. By keeping in mind the Korean users, the brand image of BMW/Mini, and the limitations of current technology, we wanted to reimage a new future of immersive gaming in a vehicle environment.
Wanting to create a unique experience that is truly based on the needs and behaviors, we were able to find several key insights to connect mobility to its surroundings and users.

After gathering the key information, we started to build on ideas that could reflect the user's needs and also take into consideration the environment and culture. Telling a story that is truly innovative and unseen, but also can create a strong bond and feeling of hospitality to the culture and behaviors of the users was the key focus of this project. With a user-centered mindset, we were able to challenge ourselves to create a holistic user experience, from the vehicle's exterior, interior, UI, and UX, to the final storytelling via motion.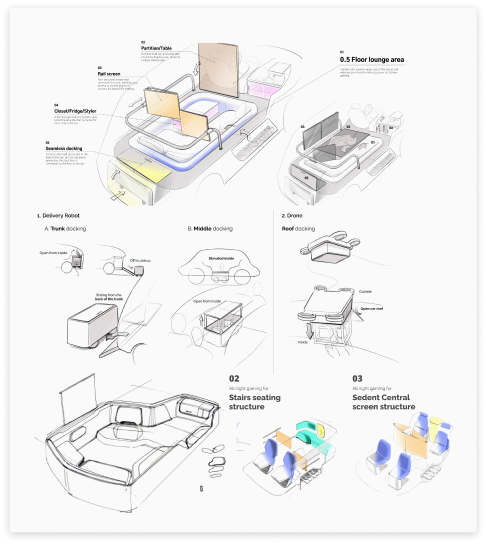 Solution


Mobility that is
tailored to resonate with the users.

Allo is a reimagined automotive experience that truly embraces the shift of mobility. Based on the carefully conducted behavior research and insights, from industrial design to user experience design, the entire concept is designed as an experience that draws the passenger right into the imagination of the future of mobility as a new form of environment that connects people with technology.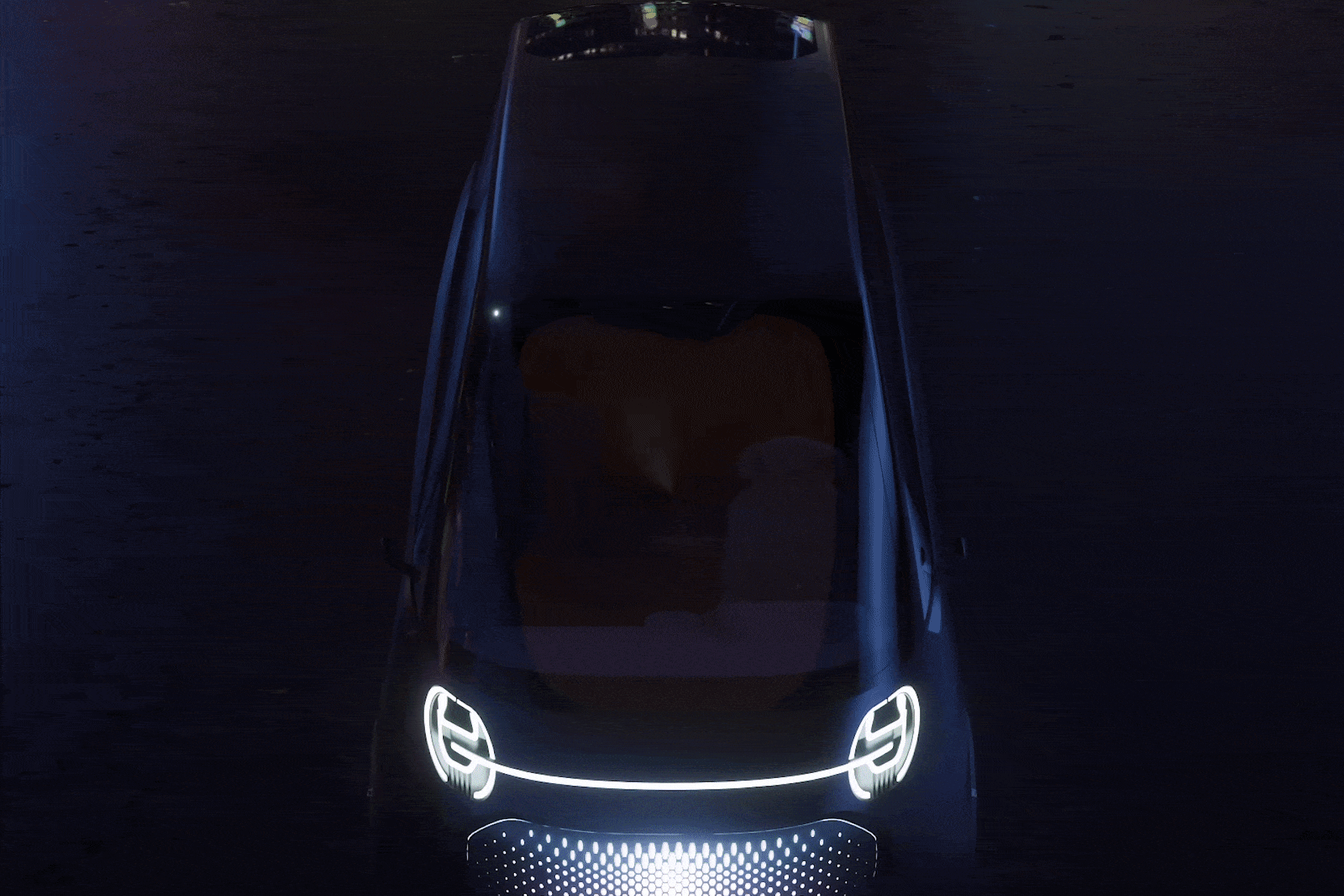 01
Screens that form a new way
of passenger experience


Using its unique shape that resembles a flag, the screens are docked inside of the wall and can easily be used for in-car entertainment, including its main feature gaming. Whether to fully emerge yourself in gaming, or put away all the digital lights and have a great time with your friends and family.



02

Connecting Automotives
with the city


What if Seoul's 24/7 delivery can be directly connected to the vehicle experience? This question led us to come up with a delivery robot that is detached from the back of the trunk, and drives itself to pick up food or necessities, coming right back to the vehicle. To create a seamless connection between order and delivery, the food right to the interior itself.

To create a seamless connection between order and delivery, we wanted to truly allow the users to enjoy everything from inside the car. Therefore, we came up with a way to deliver the food right to the interior itself, by allowing the docking of the robot to be connected directly to the back seat.
03

Suggesting a sustainable concept.


Even though Allo was a conceptual project, we wanted to make sure that we could present our work with the most confidence we could have. We visited numerous CMF libraries to be informed of the latest sustainable materials, including cases in the mobility seats and general interiors - i.e. recycled-PET fabric, recycled glass Terrazzo, etc. By having these physical references in mind, we were able to create with conscious sustainability at the heart.


---
The process of designing Allo was from start to finish a very collaborative and design-thinking-based approach. From broad research into the cultural background to the detailed sketches, both ID and UX designers exchanged ideas on the development. Also, with the active mentorship of the lead designers and creative directors at BMW Designworks, the project gave us a great experience to grow and push our limits, and also to explore combining physical and digital design to create a holistic experience.



Featured
Behance, Yanko Design, Design Burger