Growth
2022
Workshop project (Solo)


Object design
CG Simulation
3D Printing
Exhibition
SWNA X Kwangho Lee
As a collaboration project with the artist Kwangho Lee, the pencil holder is designed as a 3D printed objet inspired by his work. Reinterpreting the artist's well-known technique of 'braiding', the form was created with computer generated simulation of knot patterns, leading to the final form and function. This project was done during the internship at SWNA, and was produced as a part of the studio's exhibition at March, 2022.
---
An inspiration workshop with a specialist artist

As a part of a collaboration between art and industrial design, SWNA invited Kwangho Lee to give an insight into his work.
Each of the designers at SWNA was suggested to create a pencil holder as the part of the workshop.
© Work by
Kwangho Lee
Kwangho Lee is an artist and designer best known for his 'knot-beyond the inevitable series' and 'obsession series'.
His knitting technique of various materials, including PVC tubes and wires, was first recognized internationally since his debut in 2007.
Including FENDI, DIOR, Swarovski, and Onitsuka Tiger, he has collaborated with various brands and adapted his skills in products, fashion, jewelry, and furniture.
Personally intrigued by his journey and growth as an artist,
I was drawn to the change of the knots over the years.
The artist explained this as the 'evolving' of his skills -
'The knots were more loose and fluid at first,
but as I developed my skills, the form became more firm and solid.'
---
Process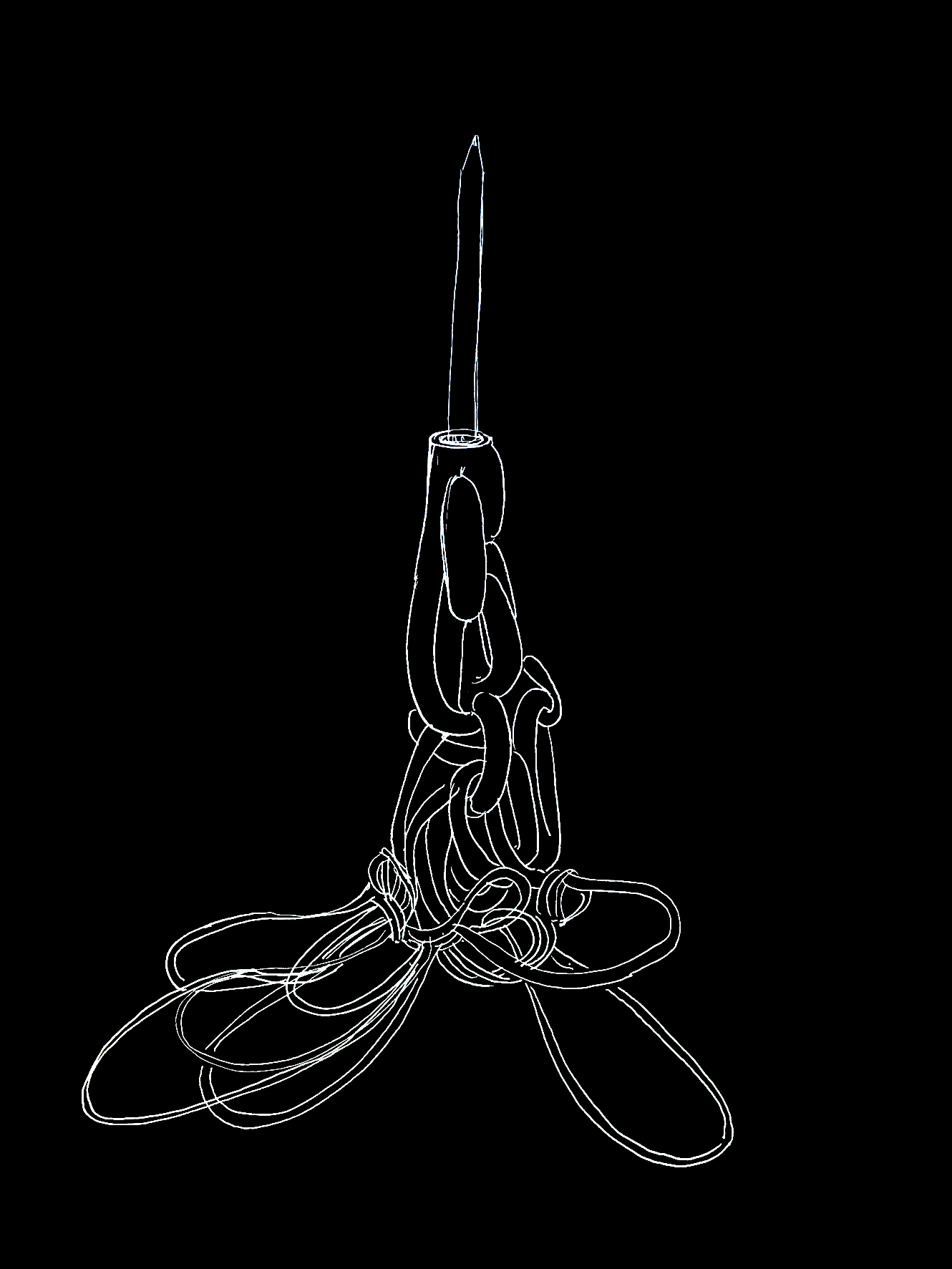 Integrating fluid forms
with rawness
I aimed to recreate the flexible lines, which in a way shows the new beginning as a designer, where the form is somehow not fully firm, but rather has room to grow and change with experience.
With the purpose of "inspiration day" to broaden our thoughts, I wanted to form the sculpture through a process different from the traditional industrial design.
I experimented with a few different simulations on Cinema 4D, and eventually landed on a growing pipe form that tangles with each other.
I turned a moment of the growing simulation into a 3D form, an adjusted it to fit it's purpose as a pen holder.
Then, it was ready as a solid form for 3D Printing.
Visualization renders

Final exhibition

The printed model was shown at
SWNA's exhibition
as part of the workshop collection. (March, 2022)
Due to the way the 3D printer generated supporters that meet the round form, the pattern on the surface was an unexpected yet unique factor coming from this experiment.
---