Harmony
Electric scooter designed in a minimal yet versatile form to solve the current safety and usability problems.



Year
2021
Client
Self
Skills
Industrial Design
Visualization
Prototyping
Animation
---
The next evolution of electric scooters
As personal mobility increases to blend into our urban lifestyle, there still remain unsolved safety and usability problems. Harmony provides a new form of solution for electric scooters - aiming to seamlessly become a part of our urban lifestyle.

Background


Current e-scooters are often
dangerous and problematic


Many of the current personal mobility face the challenge of the three situations - while riding, carrying, and stored being charged. These situations are what limit the current experience, because they can often become very dangerous and difficult to use. Experiences like sudden accidents, heavyweight while carrying, or messy charging can all lead to the limitation of personal mobility blending in with our life.

Concept


A reimagined form,
that follows the versatile functions


Harmony is designed to help solve these problems in a minimal yet multipurpose structure. It projects guiding lights on the road to help navigate and prevent accidents while riding. It also folds and stands on its two legs, making portability and charging much more efficient. With its features and a sleek and futuristic design that portrays 'form follows function', it aims to enhance and seamlessly become a part of our daily city lifestyle.
Guiding through the night road


Harmony uses projection light on the road to enhance the safety of electric scooters. Inspired by the headlight technology in automotive design, Harmony can help guide micro-mobility users through dangerous situations and prevent road casualties by detecting objects from the camera and projecting warnings.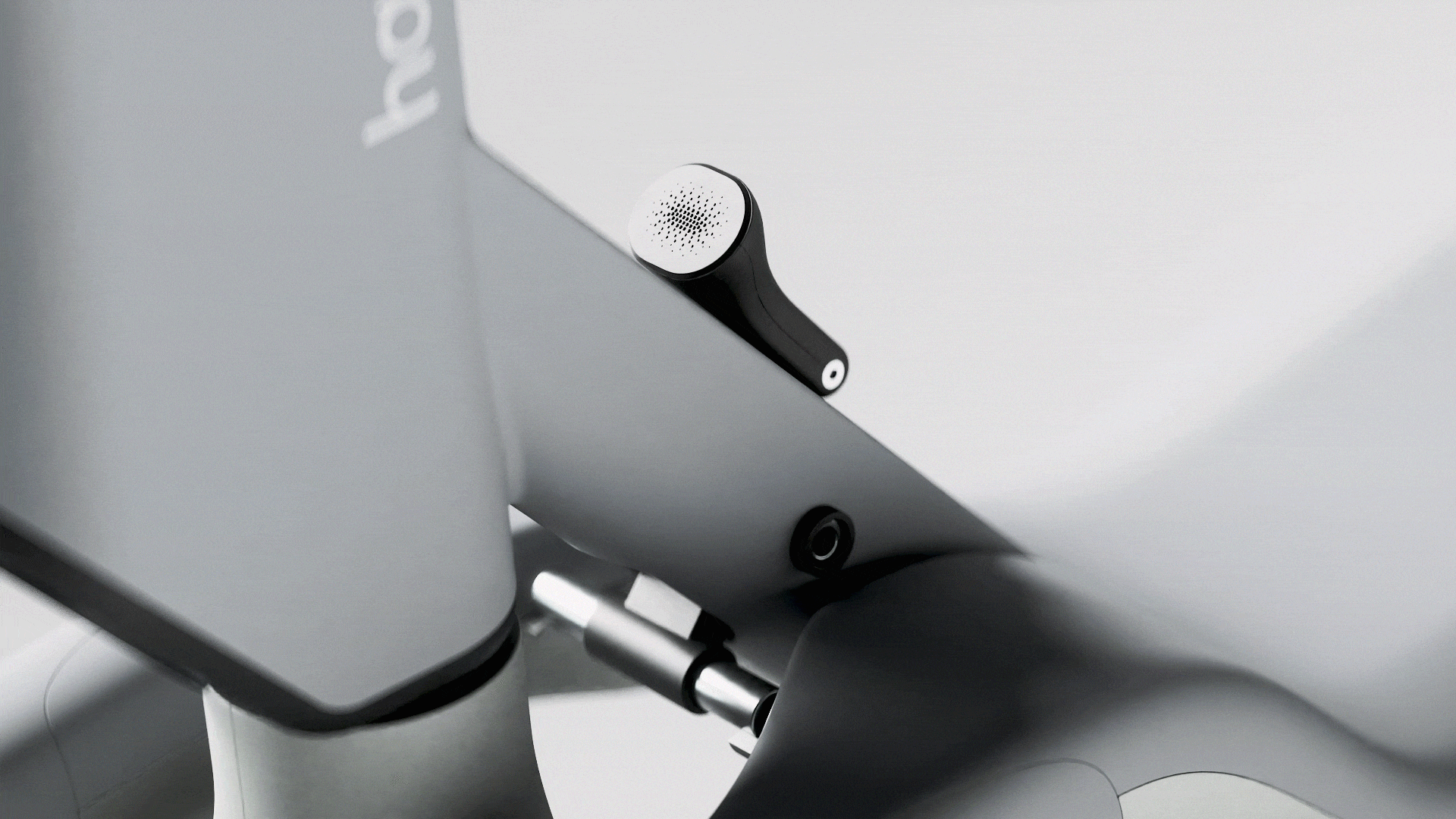 Self-standing form


The same leg form also allows a intuitive and useful vertical standing function. This creates several advantages in the end-to-end user journey, not just the riding experience but also the carrying and storage experience.

Better portability & charging experience


Portability plays a crucial part in micro-mobility. Especially in first/last mile travel situations, this hands-free standing provides a solution where the user no longer has to lift or drag the entire scooter, therefore is burden-free. It also allows storage and charging to be more space-efficient and indoor-friendly than current solutions.


User Experience Explorations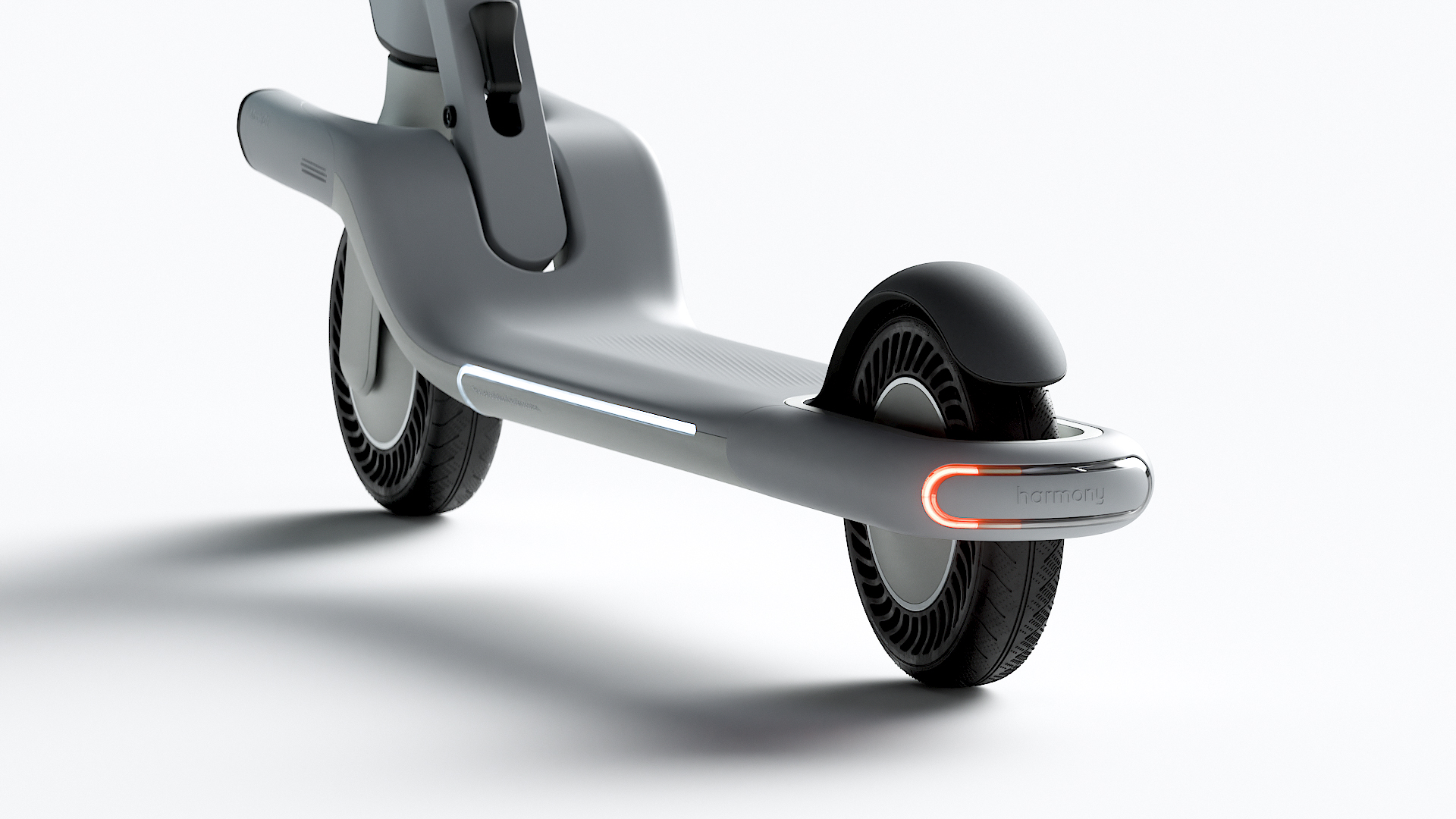 The process of Harmony started with a high-level search for current user experience and technology, and connecting the dots through ideas of solution through form. From larger proportion to small details, the concept development involved an end-to-end process of rough prototyping, sketching, modeling, all the way to full-scale mockup. Through collaboration and communication with engineers and makers, Harmony was brought to life with not just the frame of the design, but actual moving hinges and lights - taking the concept's feasibility one step further.





Featured



Behance, Designwanted, Auto evolution, Designboom, Yanko design, Design burger, Product Minimal, Student design, Design ellipse, Lemanoosh





Awarded



2023 IDEA Awards - Silver

2023 Core 77 Awards - Winner

2022 Spark Awards - Platinum Winner