2021
Solo


Product Design
Visualization
Story-telling
Animation
Smart guiding scooter


Harmony is an electric scooter that is designed in a minimal yet versatile form to solve the current safety and usability problems. Through its unique leg structure, it projects guiding lights, protecting the users from sudden accidents, and stands on its own, making it easier to carry and store. Using its features, Harmony aims to expand the possibilities of personal mobility and truly become a part of our urban lifestyle.
---
The next evolution of electric scooters.


As personal mobility increases to blend into our urban lifestyle, there still remain unsolved safety and usability problems. Harmony provides a new form of solution for electric scooters and helps users enjoy a smarter and safer riding experience.

---

Background


Current e-scooters are often
dangerous and problematic.



Many of the current personal mobility face the challenge of the three situations - while riding, carrying, and stored being charged. These situations are what limit the current experience, because they can often become very dangerous and difficult to use. Experiences like sudden accidents, heavyweight while carrying, or messy charging can all lead to the limitation of personal mobility blending in with our life.

Concept


A reimagined form,
that follows the versatile functions.



Harmony is designed to help solve these problems in a minimal yet multipurpose structure. It projects guiding lights on the road to help navigate and prevent accidents while riding. It also folds and stands on its two legs, making portability and charging much more efficient. With its features and a sleek and futuristic design that portrays 'form follows function', it aims to enhance and seamlessly become a part of our daily city lifestyle.
Guiding through the night road.


Harmony uses projection light on the road to enhance the safety of electric scooters. Inspired by the headlight technology in automotive design, Harmony can help guide micro-mobility users through dangerous situations and prevent road casualties by detecting objects from the camera and projecting warnings.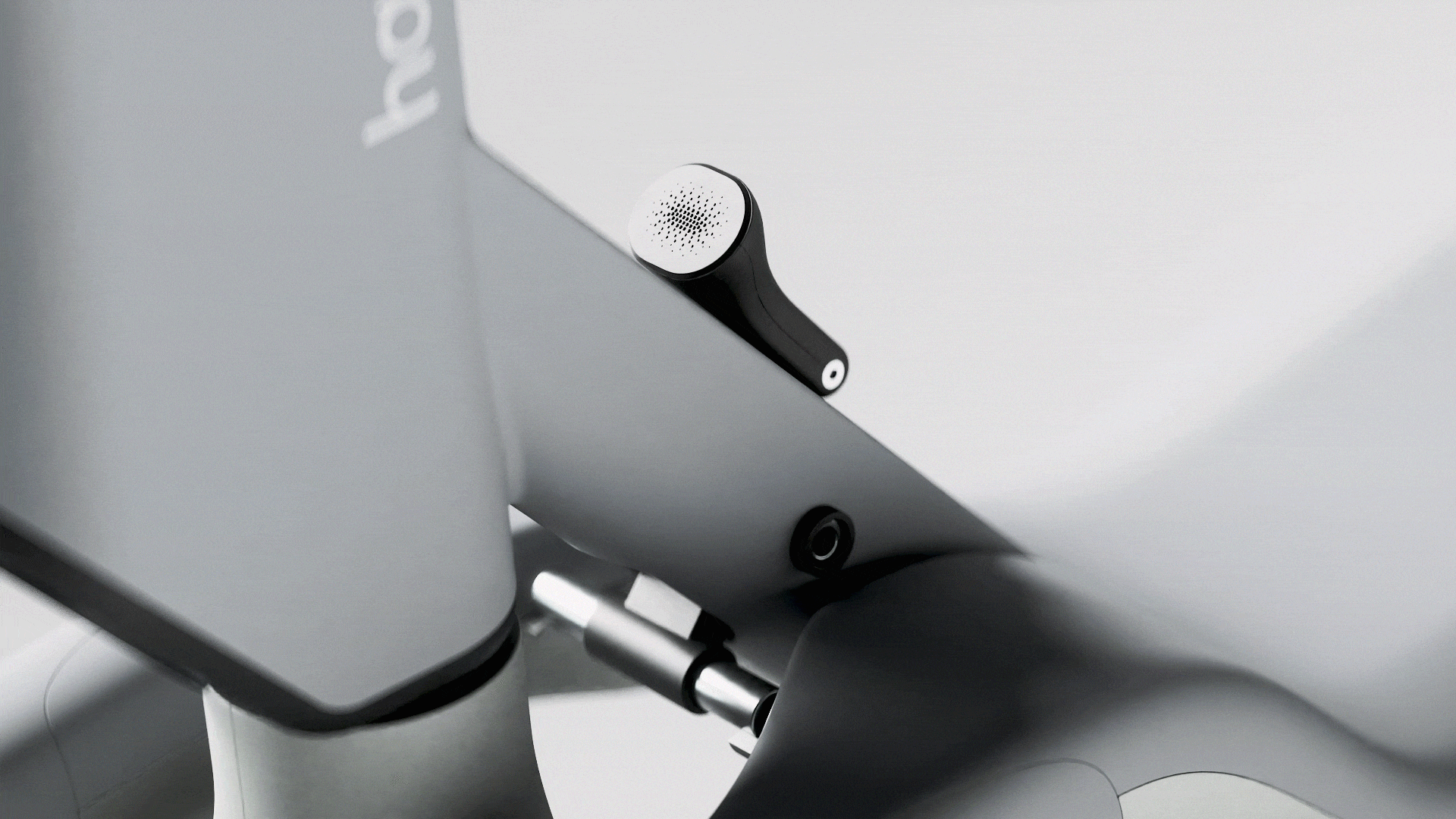 Standing on its own.


By folding Harmony, it can stand on its two feet. Unlike rental scooters, portability and storage become a huge pain point for privately owned scooters. With its vertical standing form, Harmony allows a much easier carrying experience.



Better Portability


When using public transportation or going indoors, the user often has to lift or drag the entire heavy body. Instead, with Harmony standing by itself, there is no need to put in the effort to even hold it.



Better Storage & Charging


Current electric scooters are hygienically and aesthetically challenging to charge in homes, alongside their big volume. Using wall-mounted wireless charging, Harmony makes the most out of the space, while keeping it safe and clean.



1:1 Real-scale prototype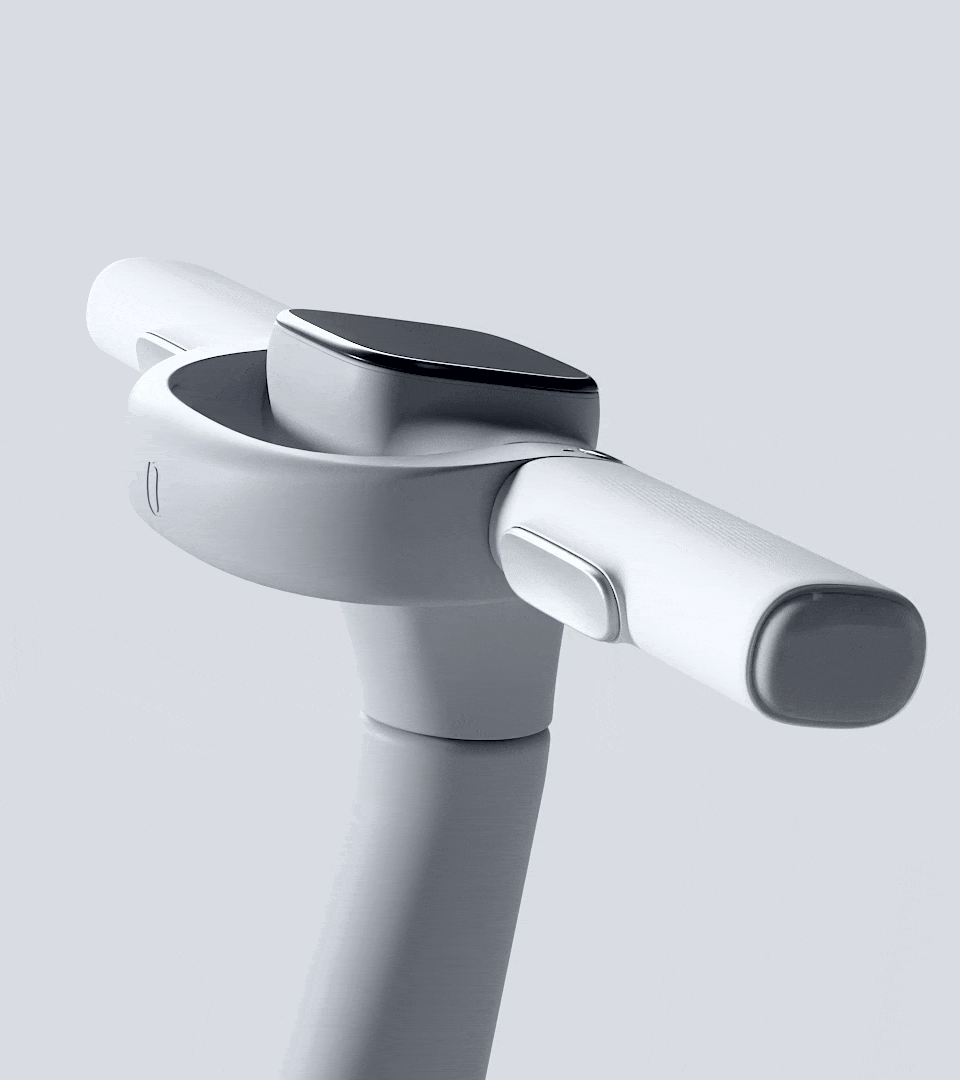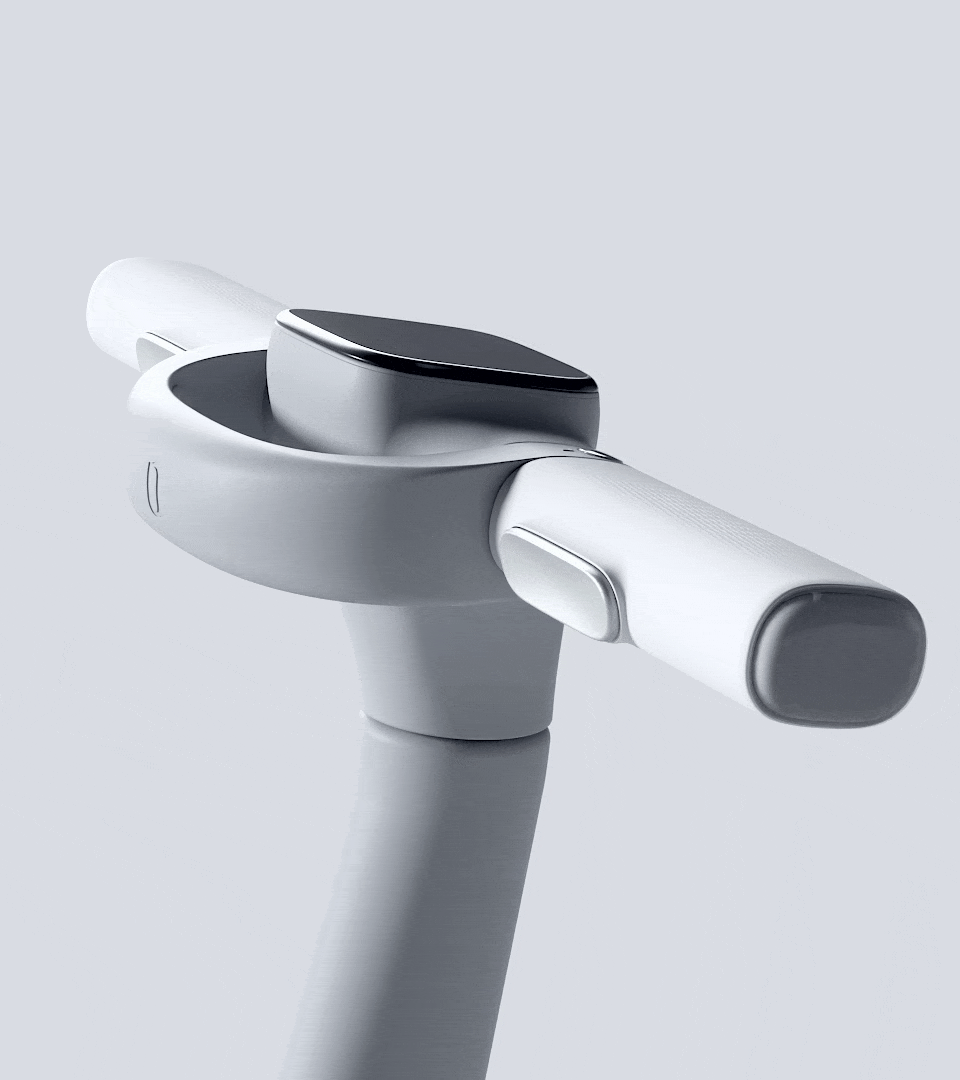 Handle interactions

App / Screen UI



Turn signal lights


Interaction and communication on the road have always been difficult with electric scooters, which could lead to unexpected crashes. Harmony solves this issue using the signal lights on the handle and back of the scooter. With the intuitive left and right buttons located on the handles, users can send other road vehicles and pedestrians messages before the directional change.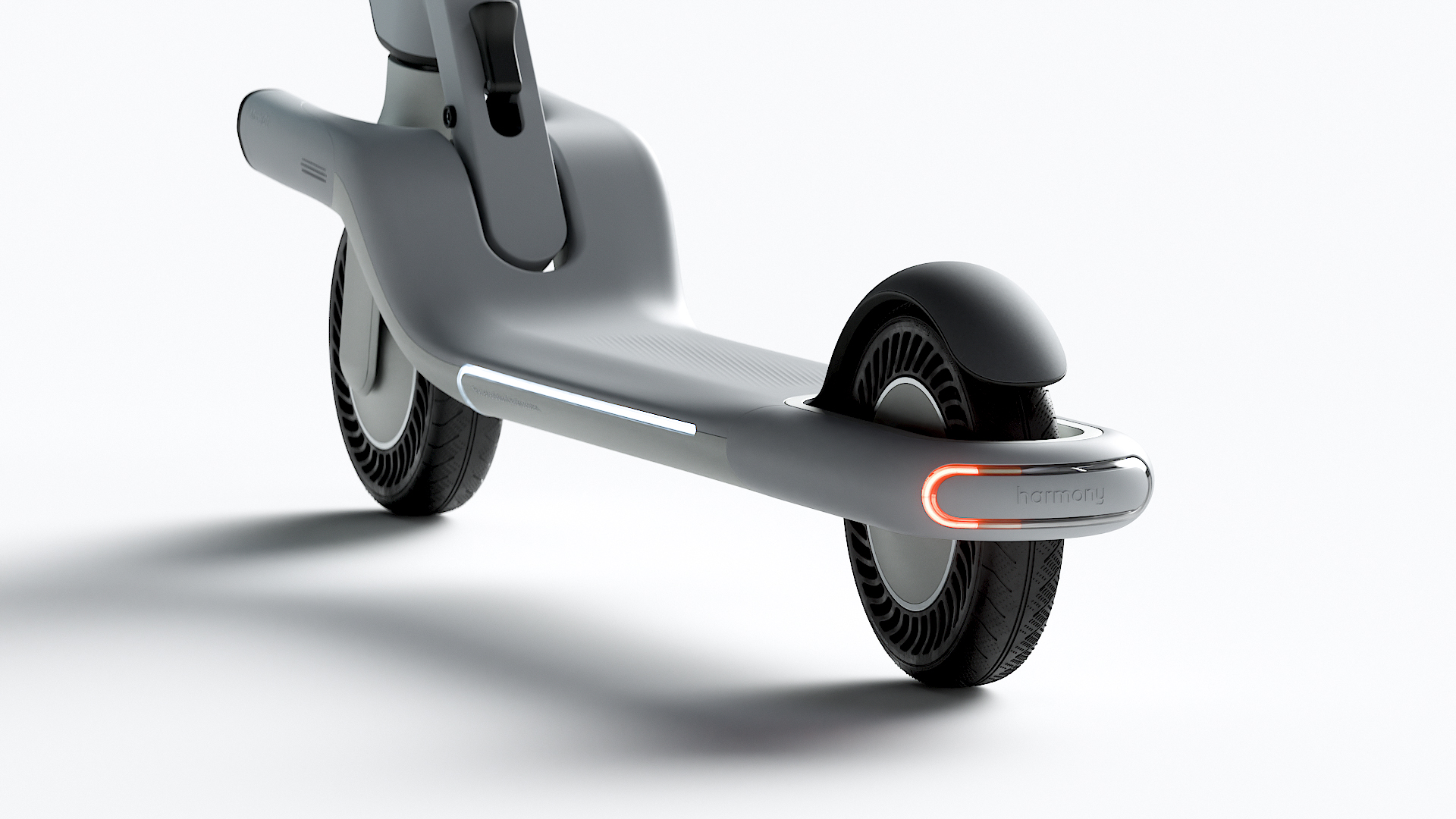 Process


From rough mock-ups
to detailed modeling


Since micro-mobility is a product with a lot of different factors to consider, research of the current market products and materials was also a key to the project. Also, repetition and iteration of real-scale mock-ups to 3D modeling were keys to sorting out the best design for both bigger proportions and small details. By communicating with engineers and makers, Harmony was also supported by Model Solution to become a full-scale model.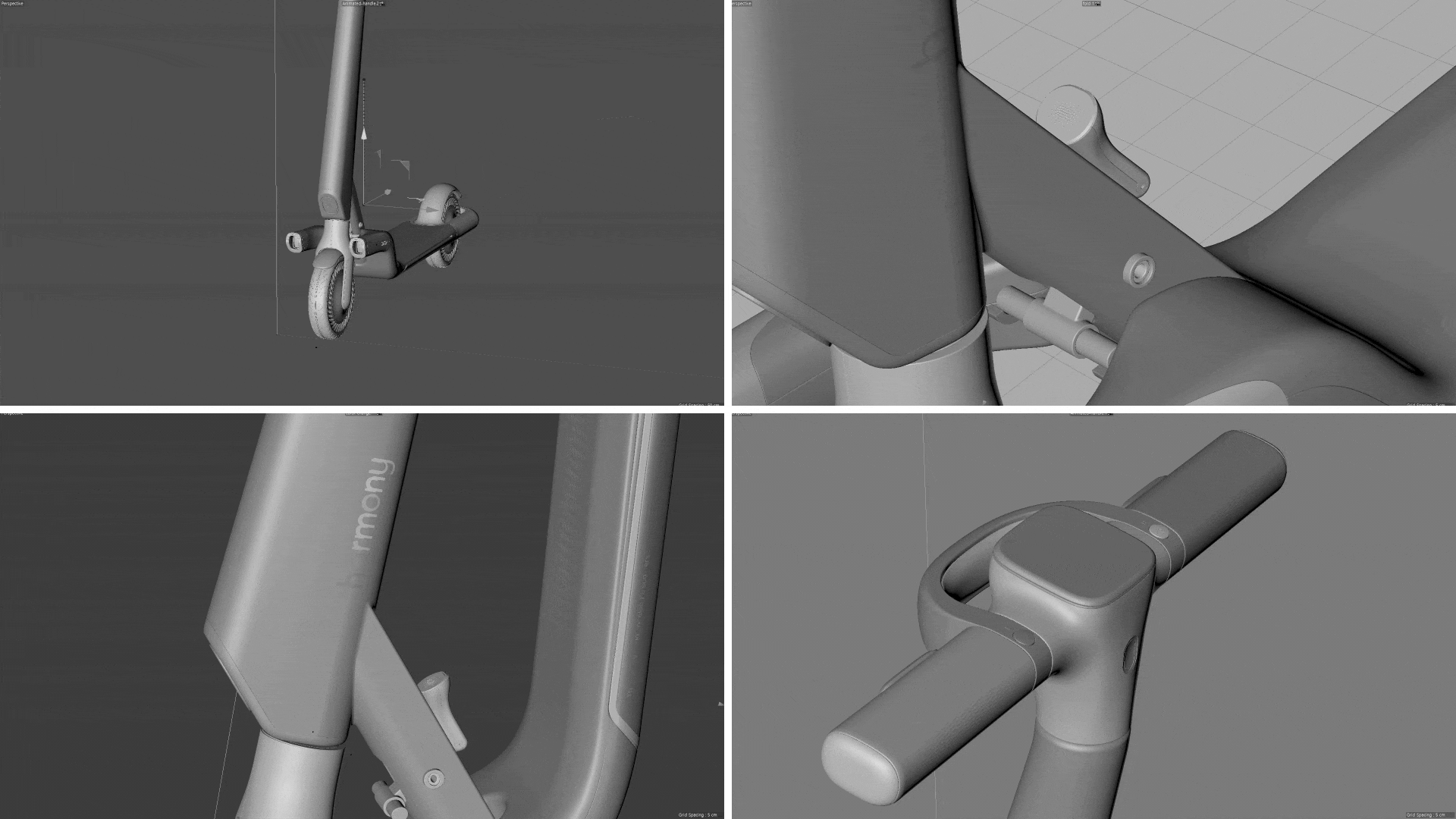 Motion graphics were another key point of this project, since the need to deliver the concept and story using visual context was best fulfilled this way, and also gave an insight into the future that the product is depicting.



Full concept video
Featured
Behance
,
Designwanted
,
Auto evolution
,
Designboom
,
Yanko design
,
Design burger
,
Product Minimal
,
Student design
,
Design ellipse,
Lemanoosh
Awarded
2022 Spark Awards - Spring Student Platinum
---